COMMON THEMES
In European winter masquerades,
some standard situations and characters
are brought into play throughout the continent
FIELDWORK
Field trips carried
out by members
of the CKE team

"In many parts of Europe dancing or leaping high in the air are approved homeopathic modes of making the crops grow high".
Sir James Frazer
The Golden Bough. A study in Magic and Religion, London, 1922 (1976), p. 36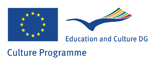 With the support of the
Culture Programme
of the European Union

KEZICH Giovanni, Carnevale. Festa del mondo, Roma, Editori Laterza, 2019, 232 p., ill.

Giovanni KEZICH, Carnevale re d'Europa.
Viaggio antropologico nelle mascherate d'inverno. Diavolerî,
giri di questua, riti augurali, pagliacciate,
Scarmagno, Priuli & Verlucca, Editori, 2015, 544 p., con 74 disegni e 85 foto a colori

Museo degli Usi e Costumi della Gente Trentina
via Mach, 2
38098 San Michele all'Adige (TN)
ITALY
Tel. +39 0461 650314
Fax +39 0461 650703
Email: info@museosanmichele.it
Find us with Google Maps!
Click here